And why would you care if your website is ADA Compliant or not?
There has been a lot of discussion about ADA Compliance and Website recently since several large Lawsuits have been judged in favor of the plaintiffs.
From an article May 2019 in the Business News Daily
The Americans with Disabilities Act (ADA) requires certain businesses to make accommodations for people with disabilities.
Web content should be accessible to the blind, deaf, and those who must navigate by voice, screen readers, or other assistive technologies.
Businesses that fall under Title I, those that operate 20 or more weeks per year with at least 15 full-time employees, or Title III, those that fall under the category of "public accommodation," are covered by the ADA.
There are no clear regulations defining website accessibility.
Failure to create an ADA-compliant website could open a business to lawsuits, financial liabilities, and damage to your brand reputation.
The consensus has been that Brick & Mortar facilities with the above-mentioned criteria would be the most targeted
There are no clear ADA regulations that spell out exactly what compliant web content is, but businesses that fall under ADA Title I or ADA Title III are required to develop a website that offers "reasonable accessibility" to people with disabilities
Adding an accessibility review to marketing service offerings is a step towards avoiding an ADA lawsuit, which of course, is a financial setback that can destroy web traffic and brand loyalty.
Since most of our readers do not fall into the scale of companies that are most vulnerable, the question would be WHY should I do it?
Here are a few reasons why all small Service, Product Creatin and Creative Websites should consider making their Websites Compliant
Google and other search engines use at least some of the same criteria as ADA compliance, such as using alt text to describe images, in their ranking algorithm. Failing to make your website ADA compliant can, therefore, result in a lower Google ranking and even prevent your site from showing up in search results.
Companies that do not make their websites ADA compliant risk losing valuable customer loyalty. Just as you want to maintain a website that is easy to navigate and helps users find the information they're looking for, you should want to maintain a website that provides an equally seamless user experience for people with disabilities.
You will be offering your information to more people.
MAKING YOUR WEBSITE ADA COMPLIANT WITH WCAG
Because of the uncertainties surrounding website ADA compliance, specific guidelines separate from the ADA have been established – the Website Content Accessibility Guidelines (WCAG), which were developed by a group within the World Wide Web Consortium (W3C) and most recently updated in 2018. The WCAG has a narrower focus exclusively on websites with the goal of making content more accessible to a wider range of individuals with disabilities – although it should be noted that they will not address every user's need for all individuals with disabilities.
WCAG uses 3 levels to categorize a website's ADA accessibility:
Level A: accessible to some users
Level AA: accessible to almost all users
Level AAA: accessible to all users
Achieving an AA or AAA rating through these guidelines can be complex to navigate, making it a good idea to work with a digital partner who understands the ins and outs of website ADA compliance.
Expanding further on the above, the following ADA compliance checklist provides some basic ways to make your website ADA compliant:
Use alt text to describe visuals, audio, and video, which tells the browser about that content if it can't be loaded and so it can be interpreted by a screen reader
Create transcripts for video or audio files so the content can be digested both visually and audibly
Ensure your website can be read using a screen reader, which includes keeping content concise and easy to interpret, and ensuring readability of any downloadable PDFs
Include Closed Caption for videos
Make sure your website has clean and organized HTML coding and tags
Review your page headings, titles, and navigation for proper font size and colors (relative to the background colors and contrast) to ensure readability. You can learn more about what colors to use to meet WCAG standards here.
Audit your website's code to be sure it is up to date and utilizing best practices
Take advantage of Google Chrome's WAVE tool to audit your website for any accessibility issues
Review the ADA Best Practices Toolkit for state and federal agencies to learn more about how to make your website ADA compliant
Yes, website ADA compliance is required by law and may not directly affect many of you, but like stopping at a stop sign or buckling your seatbelt, it's also the right and responsible thing to do.
A long time associate and talented internet technician, Mark Hultgren, has been offering a complete package of the Compliant Software and Installation for a SPECIAL Price during the Month of May 2020. Depending on the size of your site and complexity it could take several hours to install. There are some things you should do to save time and allow the process to flow smoothly. Especially in the Text To Speech Module.
To see the system in Action,
Click on the Wheel Chair Icon to the Right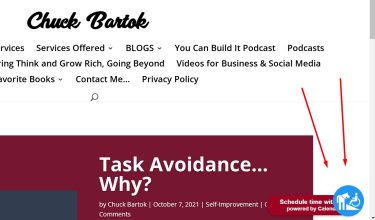 Test the Text to Speech by clicking on that Icon and placing your cursor where you want to listen
Take advantage of Mark's Affordable Prices
and enjoy increased traffic and more sales.
Click on IMAGE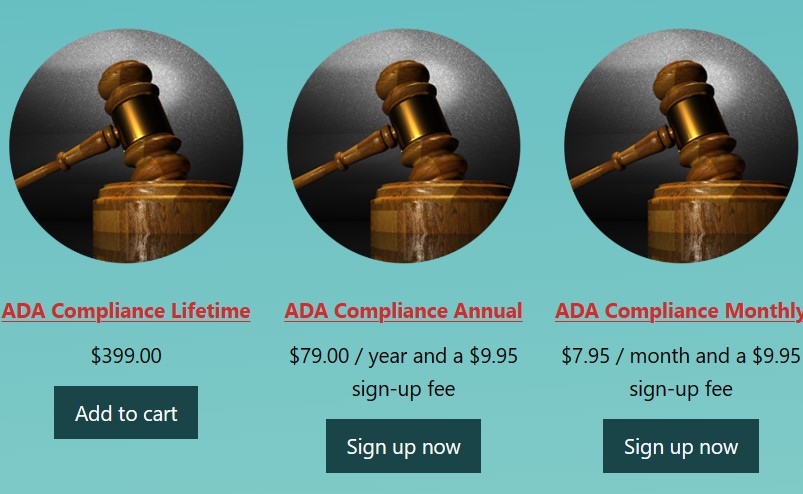 Ask questions, share your personal experiences